Back to News & Events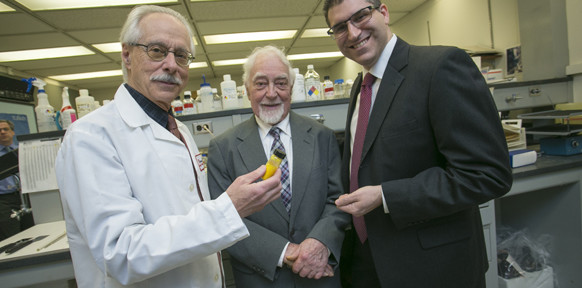 Traverse Biosciences Executes Exclusive, Worldwide License Agreement
March 16, 2015

Traverse Biosciences, founded by Joseph Scaduto – one of the Center for Biotechnology's first BioEntrepreneurs-in-Residence, announced today that it has executed an exclusive, worldwide license agreement with the Research Foundation for the State University of New York (RF/SUNY) for access to the animal health applications of a proprietary library of polyenolic zinc-binding agents. The license agreement also extends Traverse Biosciences the exclusive option to license the human health applications of these promising drug candidates.
The drug compounds were invented by Lorne Golub, DMD, MD (Honorary), Distinguished Professor in the Department of Oral Biology and Pathology in the Stony Brook University School of Dental Medicine, and Francis Johnson, PhD, President of Chem-Master International Inc. and Professor of Chemistry and Pharmacology at Stony Brook. The drugs were developed in concert with the the Center for Biotechnology at Stony Brook University. The Center provided financial support to help the inventors develop their lead compound and for follow-on animal studies.
Click to read the press releases from Stony Brook University and Traverse Biosciences.