Back to News & Events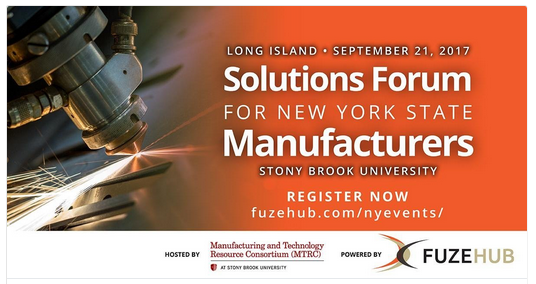 FuzeHub Solutions Forum
September 21, 2017
Location
Center of Excellence in Wireless and Information Technology (CEWIT)
A FuzeHub Solutions Forum is a matchmaker-style event where leaders of manufacturing and product development organizations meet directly with hand-picked business and technology experts in one-on-one consultations. This is not a business mixer or a networking event, but instead gives attendees a chance to learn the expertise and programs offered by our many Resource Partners.
Attendees meet with Resource Partners on a first-come, first-served basis, to help find solutions to their business and manufacturing challenges, and to learn about opportunities for growth. Resources include experts from the New York Manufacturing Extension Partnership, economic development organizations, entrepreneurial assistance programs, university research centers, and other NYSTAR-funded programs.
Some Resource Partners can provide free assistance, while others charge for their services, or may have matching funds available. Expertise available generally includes grant funding or financing, exporting, workforce development, prototyping, design for manufacturing, automation, materials, pollution prevention and remanufacturing, commercialization of intellectual property, cybersecurity, and many other advanced technology topics.
The event is free, but space is limited, so please request to attend early if you have strategic responsibility for the development and manufacturing of your product, and want to learn about available expertise and opportunities for growth. FuzeHub may contact you in advance to determine your eligibility, or to gather additional information needed to recommend matches.
https://fuzehub.com/nyevents/