Back to News & Events
BIO 2016
June 22, 2016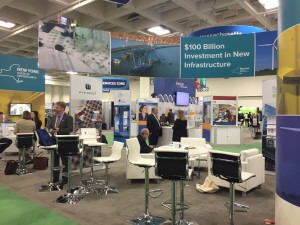 The Center for Biotechnology team recently ventured out to San Francisco for BIO's annual International Convention. Through the support of Empire State Development and the Long Island Bioscience Hub, the Center for Biotechnology was able to support six Long Island emerging biotech companies to attend the meeting: Alpha-1 Biologics Corporation, Codagenix, Inc., DepYMed, Inc., iCell Gene Therapeutics, PhD Skin Care LLC and Vela Therapeutics. These companies were joined in the New York Pavilion by more than two dozen other companies and entities representing New York State.
Long Island and New York City regional companies Alpha-1 Biologics, Vela Therapeutics, Intrommune Therapeutics, PainQX, Serendipity Biotech, ENB Therapeutics, and QuickSilver Biosystems all were recipients of grants from Empire State Development and NewYorkBio which also assisted their participation in the event. These companies were tapped to present in the New York Pavilion along with six other companies from upstate New York.
Envisagenics, ENB Therapeutics, PainQx, QuickSilver and Abcombi BioSciences, all New York State Companies, were invited to participate in the BIO 2016 "Start-Up Stadium" which provide start-up companies with the opportunity to pitch to key members of the investment community, venture philanthropy groups, and BIO attendees. The participating investors provided live feedback and judged the sessions.
In addition, six Long Island Bioscience Hub faculty members were invited to participate in the meeting for the first time. These NIH-REACH program supported faculty attended with the goal to learn more about the commercialization process, how it applies to their translational research, and to engage in the partnering process and meet with potential strategic contacts. Center staff met with over 40 strategic partners over the course of the meeting and follow up is underway.